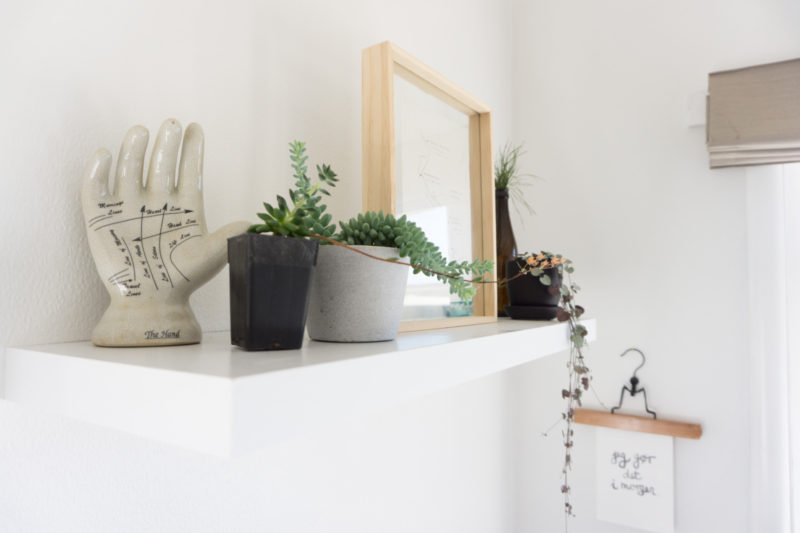 Create a Space of your Own
The past few years have seen me moving around from place to place many times. Sometimes only staying for a short time, others for much longer but I always take the time to create a space of my own.
This isn't my usual type of post but seeing as I have plenty of experience with it I thought it could be helpful for me to share some tips on how to create a space you love – whether that be for a temporary or permanent time period. I'm a huge introvert so having a place I can hide out, that is comfortable and feels like 'mine' is really important.
I've recently moved back home and in with my parents, temporarily… going on 6 months. This means I have had to re-design my teenage bedroom to create a space more in tune with what I want and need in my life now.

– Pinterest is your New Best Friend –
Even if you are not normally a Pinterest person, when you are wanting to create a space of your own the first thing you need to get on the Pinterest bandwagon. It's the best place to discover what styles you like, as well as what you don't like.
Make a space/home/bedroom board and start pinning. After you've been pinning a while, look back over the board and take note of any themes that pop up – colours, styles etc.
– Choose a Colour Scheme That Makes You Happy –
While not always possible (if the stay is more temporary), choosing a colour scheme is really important to your overall feeling of the space. Being a typical millennial, right now I love soft pinks, greys and greens so when redecorating my bedroom I made sure to follow a theme using those three colours. It's a good idea to limited the amount of colours you choose to style with, otherwise the room might start to feel overwhelming – stick with a neutral (like white) for the main base and then accent with a few colours.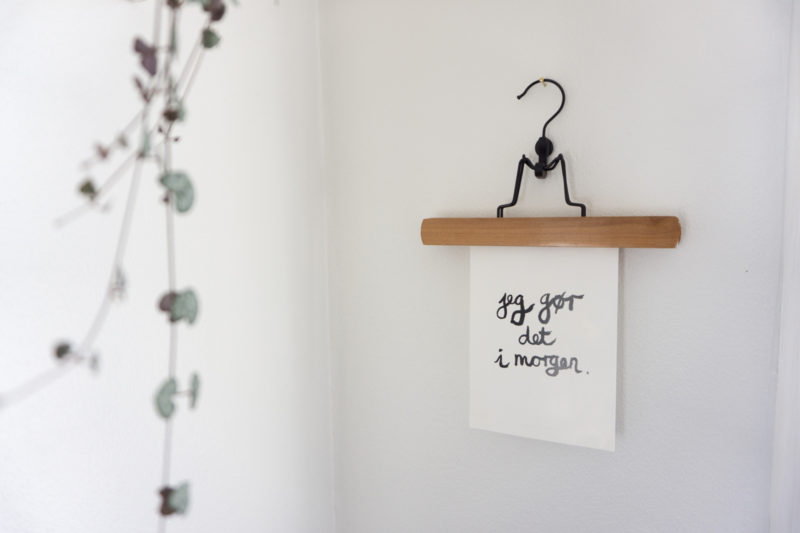 – Prints –
Adding prints, or even postcards on the walls can really bring a room together. If you've taken the time to pick out prints you love or have postcards from your travels then seeing them on the wall is going to bring back happy memories. When I am travelling prints are my most purchased souvenir – they're easy to pack away in a bag, usually pretty cheap and I know that rather than sitting away in a drawer somewhere I can put them on my wall wherever I am and look at them everyday.
Postcards or just normal cards are great when you are in a place temporarily. I am a hoarder of all kinds of cards (seriously I could open a shop with my collection), when I was living in Scotland for a year and knew it was a temporary stay I didn't want to go overboard on the decorating. Luckily I had all these cards that I was carrying around with me and used them to create a gallery wall of sorts in my bedroom.
I worked at a lovely hostel when I lived on Skye and when I first arrived I actually stayed in one of the hostel rooms for a couple of months before I moved into the cottage next door. During that time I wanted to make that little bunk feel like my space as much as possible, so I put some cards up on the shelf in my bunk – which helped me feel at home.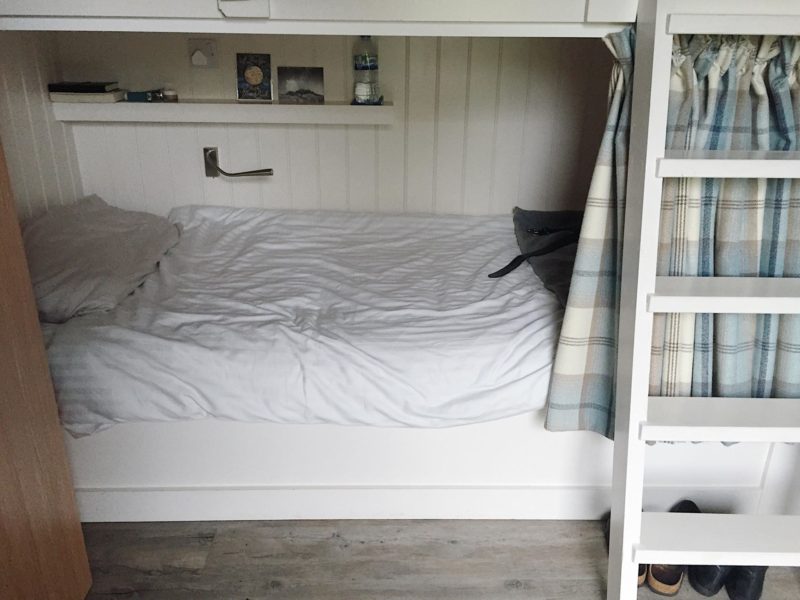 – Plants or Fresh Flowers –
My plant obsession is real. Plants bring a room alive (literally) more than anything else, after years of filling my spaces with plants a room feels bland to me without them. Even when I was living on the Isle of Skye for a temporary time I still purchased a few little plants – I knew they would make me happy while I was there and that when the time came to leave I would be able pass them on to someone else.
Now that I am in a permanent space I've literally run out of room for plants and have had to extend my reach around the rest of the house! I'm sure my mum loves it, haha.
If you're not able to have plants, fresh flowers (even just plucked from the garden) are just as lovely!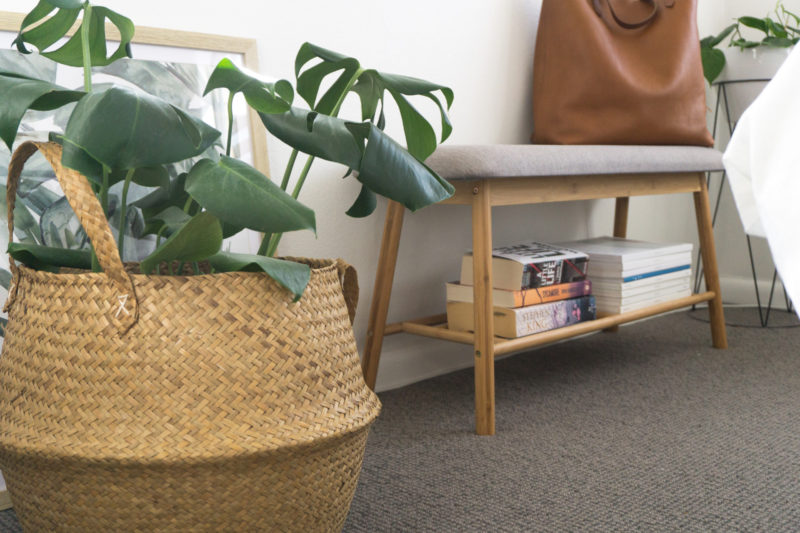 – Trinkets from your Travels –
As with the prints, I often pick up small trinkets on my travels. Small handmade ceramic pots from Scotland, tiles from Portugal, a strange hand from London, a beautiful bottle that once held my favourite gin. Whatever it may be, if you are able to transport it with you on your travels and back home these make the perfect little additions to create a space of your own. When we have visitors these are the things I love showing to them as they bring back happy memories.
Having that personal touch in your space makes it that much more inviting and makes it a place you want to be. This is especially important if you've moved back home or to a place where you might be inclined to spend more time in your bedroom. You want to create a place you want to be, not somewhere you will feel trapped.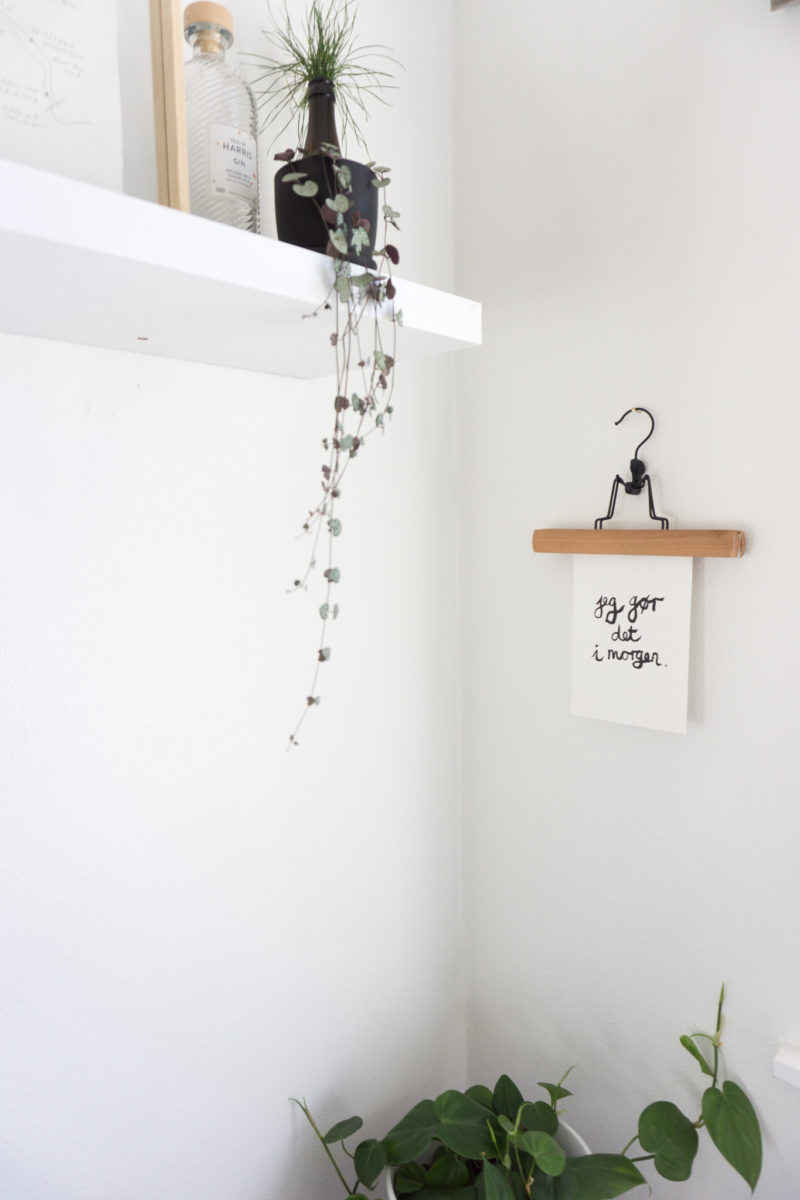 – Keep your Space as Tidy as Possible –
Lastly, but certainly not least, try and keep your space tidy! I know it can be difficult, throwing your clothes over the back of a chair or leaving your books scattered around the room is much easier but having a tidy room is better for your overall happiness.
Anything you choose to bring into your space needs a place, once it has a place do you best to always keep it there if you're not using it. When you wake up in the morning, make your bed straight away. When you're done reading that book, pop it back on the shelf or nightstand. When you've finished up for the day, hang your jacket back in the wardrobe and put any dirty clothes in a washing hamper.
Keeping your space tidy in small steps like this will ensure you're not left with a giant mess to clean up all at once. Because let's be real, we haven't got time for that.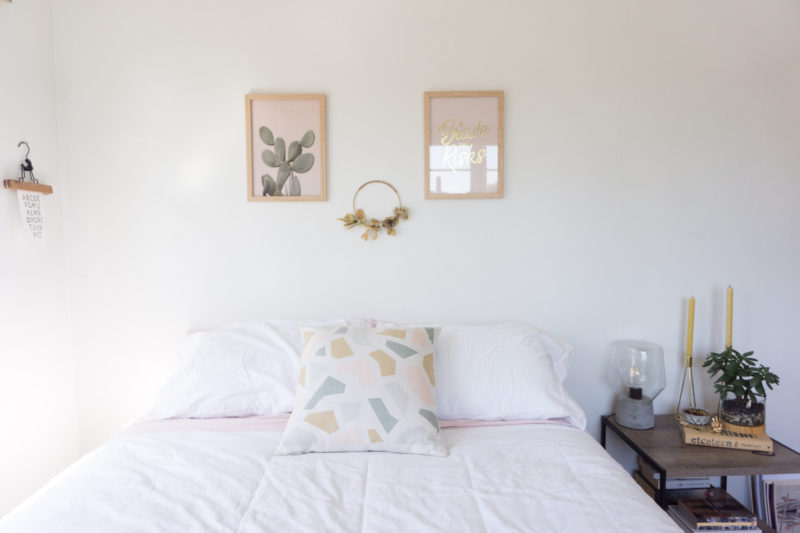 I hope that has given you some ideas on how to create a space of your own. I would love to hear the things you do to make your bedroom/home/wherever you are feel like your own – let me know in the comment below!
Emma x
PIN IT