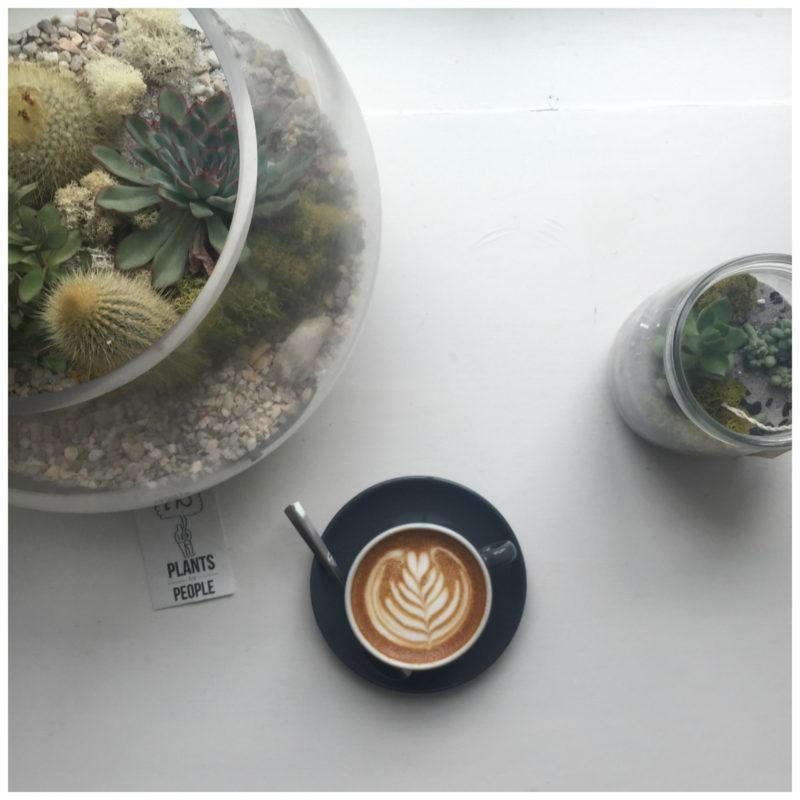 After having some extended time in Edinburgh recently and spending my days cafe hopping I discovered some fantastic coffee spots and wanted to share a few of my favourites so I have put together a Cafe Guide to Edinburgh. The way I tend to get to know a city is through its coffee and cafes. When going to a new place my planning usually involves figuring out where the cafes I want to visit are and then organising my days around them – in a strange way this has allowed me to see far more than I otherwise would as it often means leaving the main tourist areas and exploring the outer neighbourhoods.
Keep reading below to discover some of the best cafes in Edinburgh!
– Fortitude –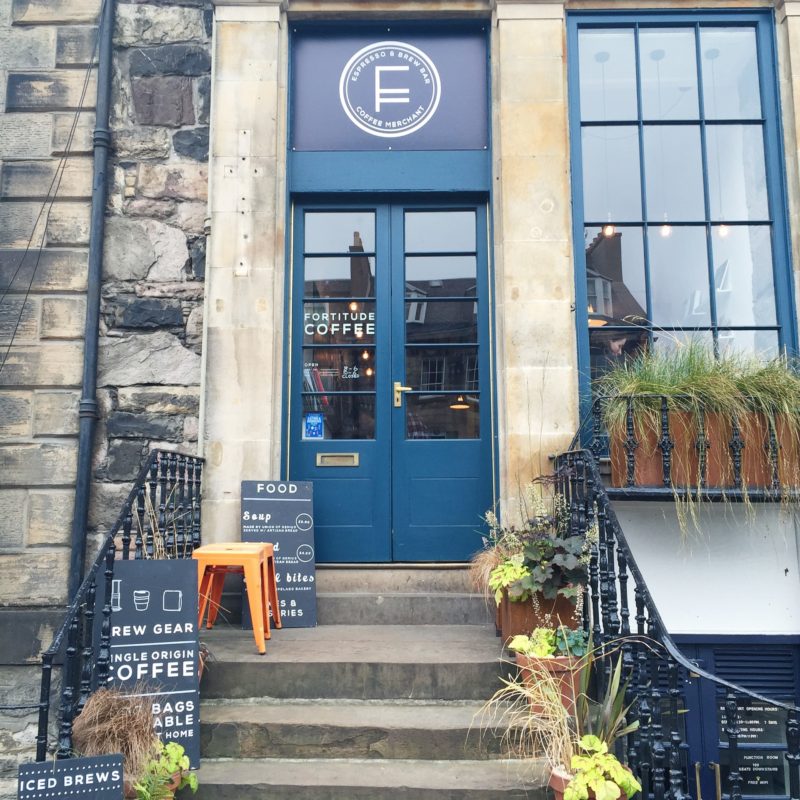 Fortitude was one of the very first cafes I visited in Edinburgh almost 2 years ago. I have spent many hours there since and it is still just as fantastic as it was then. Located in a very convenient city centre spot yet still away from the hustle and bustle, Fortitude provides a calm escape from the outside world.
The space is quite small but strangely there has never been a time that I've had to wait (or even seen anyone waiting) for a table. The interior is beautifully done, simple but modern with a Scottish twist (think tweed throws on the seats). The big windows let plenty of light in and allow for perfect people watching on the street outside.
The coffee is by far some of the best in Edinburgh, using beans roasted by one of my favourites in London – Workshop Coffee Co. They also serve freshly made baked goods and offer a small breakfast selection plus a daily selection of sandwiches and soup for lunch.
Fortitude is definitely not one you want to miss on a trip to Edinburgh!
Where to find them :: 3C York Place, Edinburgh, EH1 3EB
Hours :: Mon – Fri, 8am – 6pm | Sat, 10am – 6pm | Sun, 11am – 6pm 
Price :: £2.70 Latte | £2.50 Flat White
Wifi :: Yes 
– Lowdown Coffee –

Lowdown is, as the name would suggest, located below street level. The space is wonderfully designed, very simple and minimal but practical with plenty of seating and lots of light despite being in a basement. I stumbled upon this cafe by chance, I had just been offered a job in Edinburgh and was already feeling pretty chuffed with life when I walked past a sign for a cafe that caught my eye.
The coffee was great, and for the non-coffee drinkers there was a large selection of tea to choose from as well. The menu, like the space, was kept simple – a selection of cakes, sandwiches and soup were on offer and all looked delicious.
Lowdown was only opened earlier this year but already seems to be doing great – one to keep an eye on!
Where to find them :: 40 George Street, Edinburgh, EH2 2LE
Hours :: Mon – Fri, 8am – 7pm | Sat, 9am – 7pm | Sun, 10am – 7pm
Price :: £2.70 Latte | £2.60 Flat White | £2.00 Tea Selection

– Baba Budan –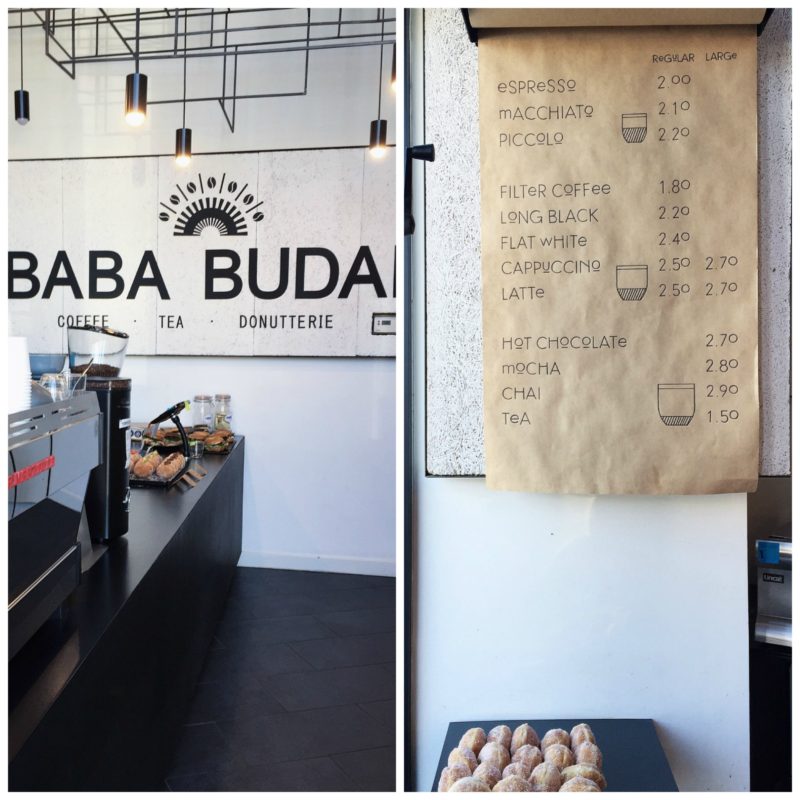 I arrived at East Street Market not knowing what to expect, other than that it was a new arrival to Edinburgh. Along the strip of shops and eateries located underneath the archways near Waverley Station was Baba Budan. I'll admit, it was the doughnuts that first caught my eye rather than the coffee but it was the coffee that had me coming back for more! (Ok, the doughnuts didn't make it hard to return either).
They use coffee beans roasted by one of my favourites, Ozone, as well as a seasonal rotation from other suppliers for filter coffee. Nothing beats a coffee + a doughnut and Baba Budan has them both perfected.
There is not much room for sitting, a few seats along the edge of the small space, but it's the perfect takeaway spot or if you can snag a seat count yourself lucky. On my last visit in early July I was told they were going to open the space up next door as well, which would add much more space for sitting in!
Side note – be sure to look up when you visit as they have an amazing light installation!
Where to find them :: East Market Street, EH88FS, Edinburgh
Hours :: Mon – Fri, 7.30am – 5pm | Sat – Sun, 9.30am – 5pm
Price :: Latte £2.50
Wifi :: No (as far as I'm aware, but this may have changed) 
– Milkman –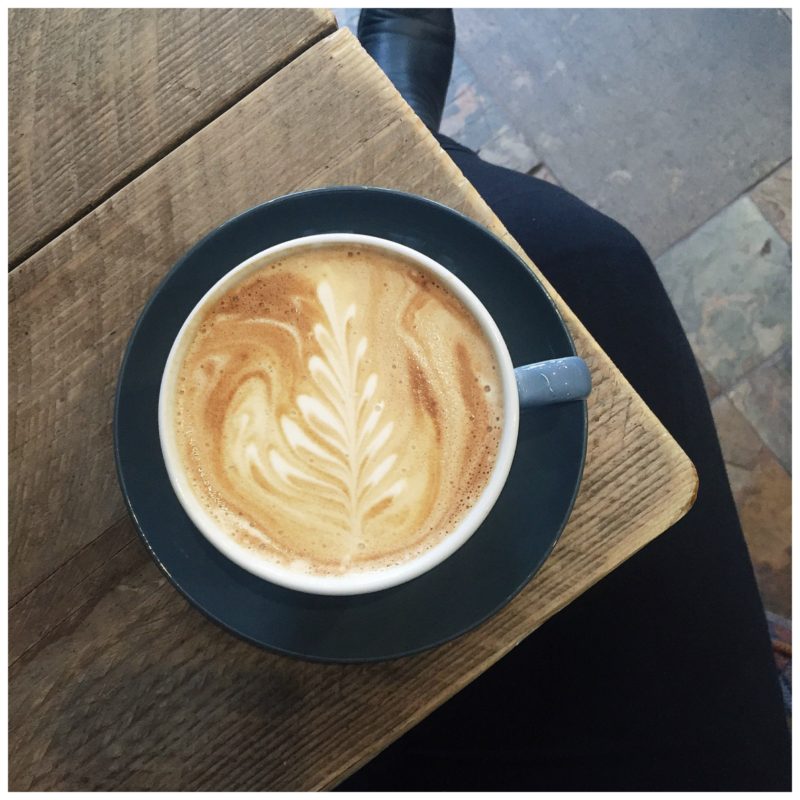 My first visit to Milkman had me feeling slightly disappointed as I arrived to find them closed, luckily I decided to pop back after taking a wander and to my delight found they had opened!
It was well worth the wait; excellent coffee, service and food. The cafe was relatively quiet, so there was ample seating for all the other earlybirds. The big windows provide an excellent opportunity for people watching on the busy street outside. The food was homemade by local suppliers and included a great mix of gluten free cakes, plus there was also a soup on offer for lunch.
Milkman is very central, located in the Old Town of Edinburgh, making it the perfect pitstop during a day of exploring the city!
Where to find them :: 7 Cockburn Street, Edinburgh, EH1 1BP
Hours :: Mon – Sun, 8am – 6pm
Price :: Latte £2.80
Wifi :: Yes 
– Cairngorm Coffee Co –
Now I don't like to choose favourite but I am going to go ahead and say Cairngorm is definitely the cafe of my dreams. Sadly I didn't discover them until just before I was due to leave Edinburgh but still managed to fit in a few trips, and even left them what remained of my plant collection (I feel happy knowing my wee plants get to live out their life in such a lovely cafe!).
Cairngorm Melville Place in the West End of Edinburgh is their second cafe which was opened recently, and what a brilliant space they've created. Full of light, the perfect combination of neutral colours and enough plants to make you think you've stumbled into a greenhouse – it is exactly how I would design a cafe of my own.
There is plenty of seating, mostly at large shared tables, with wifi and sockets for chargers it's the perfect space for laptop working. It's the kind of cafe where you can sit down and really enjoy your time, which is exactly what I did and the staff never once made me feel as though I had overstayed my welcome. Cairngorm will definitely be the top of my visit-list the next time I'm in Edinburgh!
Where to find them :: 1 Melville Place, Edinburgh, EH3 7PR
Hours :: Mon – Fri, 8am – 6pm | Sat – Sun, 9am – 6pm 
Price :: Latte £2.40
Wifi :: Yes 
---
Pin me for later…