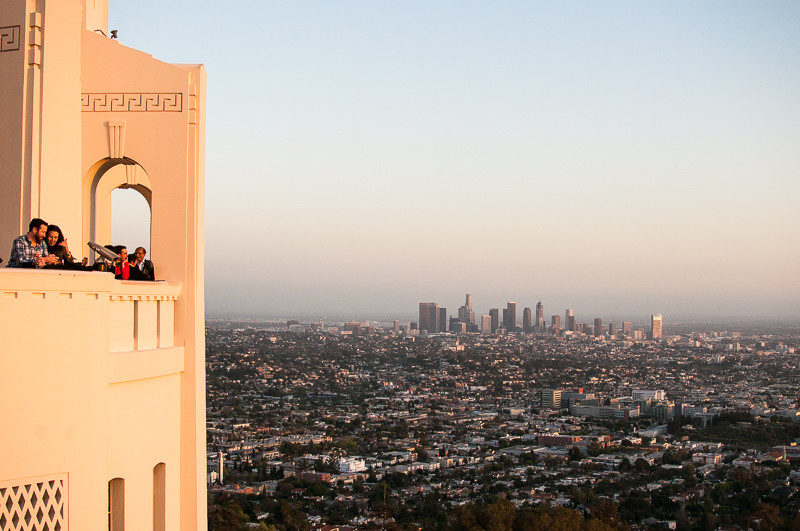 My travels often have one focus, food and coffee. My recent trip to Los Angeles was no different and I spent my days exploring the city while moving from one cafe or eatery to the next – and I was completely OK with this! While I was only in Los Angeles for 4 short days I managed to fit in plenty of foodie related places, and because I was jetting all around town to visit specific cafes or restaurants it meant I saw much more of the city than if I had just stuck to the main tourist spots. All my 'research' paid off so below is my food and coffee guide to Los Angeles.
|| Food and coffee guide Los Angeles ||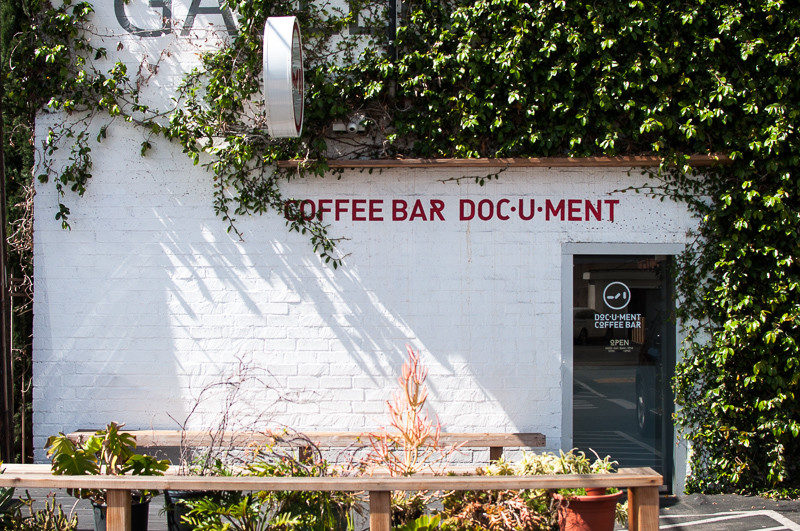 – Document Coffee Bar –
Now I will admit, my initial reason for wanting to visit Document Coffee Bar was to take the above photograph after seeing photos of the cafes courtyard area on Instagram… but once I arrived and sat down with a flat white I quickly realised I was more interested in the fantastic coffee than photographing the courtyard (although, as you can see I did still take a photo or two!). Document is located in Koreatown, which is slightly out of the way if you are staying in the more typical tourist areas of Los Angeles, but it is close to a load of other amazing eateries, markets and cafes in the Downtown area so definitely worth the visit.
The cafe was pretty quiet, there were plenty of large tables for working and wifi was available if you wanted to bring your laptop along and spend a few hours. The also served a special Korean style coffee and had plenty of tea options on offer as well as a few food options.
Where to find them :: 3850 Wilshire Blvd. #107, Los Angeles, CA, 90010
Hours :: Mon – Sat 8am – 9pm | Sun 8am – pm
Price :: Flat White/Latte $4.75 (£3.70)
Wifi :: Yes
– Republique –
If you are a brunch lover like myself then Republique is the place for you. I had heard about their reputation for baked goods and knew I couldn't pass up a visit to this place, I was delighted when I arrived to a cabinet full of tasty looking treats. Being the indecisive person I am, I couldn't choose just one thing, so ended up ordering the waffles and also getting one of their amazing doughnuts in a takeaway bag for later. Both were equally delicious (I'd go as far as saying they were the best waffles I've ever had!) and I spent the remainder of my trip wondering if I could justify a second visit to Republique.
Beside the food, the restaurant space is worth visiting alone, just for how stunning it is! The facade of the old building Republique was build in blends perfectly with the modern interior settings and creates a truly wonderful place to sit and have a meal or a coffee.
They also serve lunch and dinner, which I am sure would be fantastic!
Where to find them :: 624 S La Brea Avenue
Hours :: Breakfast/Lunch, Daily, 8am – 3pm | Dinner, Sunday through Thursday, 6pm – 10pm |
Friday & Saturday 6pm – 11pm
Price :: Waffles $11 (£8.50) | Latte $4 (£3.10)
Wifi :: Yes – need password

– The Assembly –
The Assembly is a fantastic little cafe in West Hollywood. When I arrived in Los Angeles I knew it was the first place I wanted to head to and it set my L.A cafe expectations very high! The space is beautifully designed, the coffee and pastry were excellent and the staff were lovely.
It was nice and quiet when I visited so I was able to sit and watch the comings and goings of the Hollywood street outside (and even had my first L.A celebrity spotting). There is also free wifi so I enjoyed a coffee while planning out my first day in Los Angeles.
Where to find them :: 634 N Robertson Blvd, West Hollywood, CA 90069
Hours :: Mon – Sat, 7am – 7pm | Sun, 8am – 5pm
Price :: Latte $4.50 (£3.60)
Wifi :: Yes
 – Ostrich Farm –
It's a tough call, but if I had to choose a favourite Ostrich Farm would take the cake. I ventured out to the neighbourhood of Echo Park after hearing only amazing things about this place, which all proved to be true. Ostrich Farm is the cafe space of my dreams, I loved every aspect of the design and couldn't help but take a few mental notes for the cafe I hope to one day open.
The staff were wonderful and very friendly, upon hearing my Kiwi accent they offered to make me a flat white (even though it wasn't on the menu) which I can say, as a qualified coffee drinker, was very well made! Ostrich Farm's menu focuses on locally sourced, fresh food and leans towards the healthier side (without being too heath food crazy). I went with probably the least healthy option on the menu of Blueberry and Ricotta pancakes, but they were delicious and totally worth it. Besides, all the walking I did in L.A totally justified choices like this.
Where to find them :: 1525 Sunset Blvd, Los Angeles, CA 90026
Hours :: Brunch, Tues–Fri, 10 am–2 pm | Sat–Sun, 10 am–3 pm | Dinner, Mon–Sun, 5:30 pm–close
Price :: $10 – $15 (brunch meal) | Latte, $4.00
Wifi :: Yes

– Eightfold Coffee –
When planning my travels I tend to stalk locals of the area I will visiting on Instagram to discover all the best spots, Eightfold Coffee was one of those I had seen on Instagram and noted down as a must-visit during my trip. Eightfold is within walking distance from Ostrich Cafe so the perfect place to head for an after brunch coffee (yes, this is a thing in my coffee loving world!). As with all of the places I visited in L.A, Eightfold was beautifully designed, they had perfected the minimalist look with a white/wood/concrete interior. There was ample seating, with a few smaller tables and then a large working table at the back. I visited on a weekday and it was fairly quiet but I imagine at weekends it can probably get quite busy.
Coming from winter in the U.K, Los Angeles seemed pretty warm so to cool down I ordered a cold brew rather than my usual latte/flat white. It was great, and I'm positive their hot coffees would be just as good.
The cafe is located in a strip of other cool, independent shops so be sure to take a look around at these after your coffee!
Where to find them :: 1294 Sunset Blvd, Los Angeles, CA 90026
Hours :: Daily, 8am – 6pm
Price :: Cold Brew Coffee, $3.75  (£2.85)
Wifi :: Yes

– Prufrock Pizza –
While in a cafe earlier I had read about Prufrock Pizza in an edition of the LA Downtowner so when I stumbled across Prufrock while wandering hungry and a bit lost around Downtown LA I knew it was meant to be. Prufrock is part of the recent surge of 'hip' eateries, cafes, shops and hotels opening up Downtown, slowly changing the negative view a lot of people have about DTLA.
I can't recommend this place enough, serving up delicious Neopolitan-style pizza with a short and simple menu that gets it so right. You can choose from either a regular sized pizza, or if you are a solo diner (like myself) you can order a personal sized 'pizzette', which is perfect for one. Menu prices are very purse friendly with full size pizzas going for around $11 and pizzettes starting at $5.
Where to find them :: 446 S Main St, Los Angeles, CA 90013
Hours :: Mon – Sat, 12 – 11pm | Sun 10am – 11pm
Price :: $5 – $15
Wifi :: Yes (I think!) 

– Grand Central Market –
Grand Central Market was again quite the trek from where I was staying but absolutely worth the visit. I wasn't entirely sure what to expect, but when I arrived a huge building full of food vendors it took me quite a while to make a decision between all the amazing street food options on offer. You can get everything from Mexican, Thai and pizza to locally made ice cream and fresh juices. If you are travelling on a budget like I was this market is the perfect place to treat yourself to some amazing food at an affordable price.
In the end I decided on the thai stall, Sticky Rice, whose rather large queue gave me the confidence it would be good, luckily my judgement was correct and I didn't regret the decision one bit. It was definitely up there as one of the best meals I've ever had, and it didn't have to cost me my entire trips budget to enjoy it!
I would say, if you can, to allocate at least a day for exploring the Downtown area as there are some truly great foodie spots here.
Where to find them ::9, 317 S Broadway, Downtown, Los Angeles, CA 90013
Hours :: Daily 8am – 10pm (although some stalls may have different hours – check website for details)
Price :: Varied – Can find meals for around $10 – $12
Wifi :: No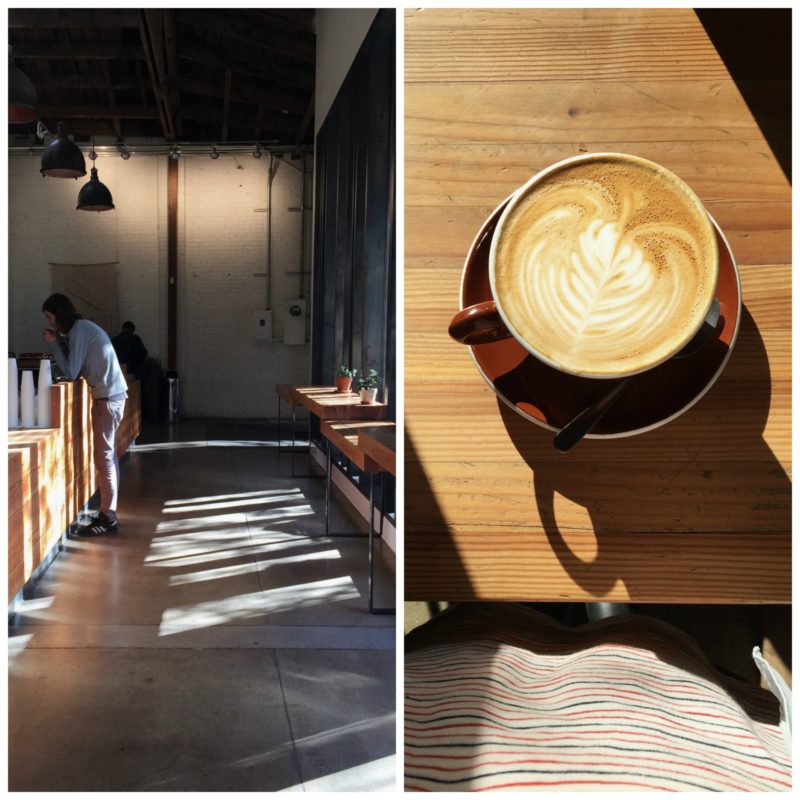 – Stumptown Coffee –
This was the last visit of my day exploring Downtown and it was the perfect place to spend a late afternoon. Stumptown opened here relatively recently, and with the reputation their other coffee shops hold in cities like San Francisco and New York I knew a visit here was a must, so I hoped back on the bus and took myself to their DTLA space.
I was surprised that their wasn't a huge amount of seating inside, a few benches along the side and then the rest of the seating was in a covered outdoor area – I guess in LA they don't need to worry about the cold weather as much! But other than this the space was great, and the coffee was even better – definitely living up to expectations. They also stock their famous cold brew here in glass takeaway bottles, which I managed to cart back home to NZ to give to a very appreciative brother.
Where to find them :: 806 S Santa Fe Ave, Los Angeles, CA 90021
Hours :: Daily, 7am – 7pm
Price :: $4 (£3)
Wifi :: Not that I remember 

– The Butchers Daughter –
On my final day in Los Angeles I made my way down to the highly recommend street of Abbot Kinney in Venice Beach; here you will find hip stores, cool bars, restaurants and cafes galore. The laid back Venice was the perfect place to chill out before my flight to New Zealand that night, and the main contender on my must-visit list was The Butchers Daughter. Another place that has opened recently and is an import from New York, where it is a long time favourite among locals and travellers alike.
The interior fits perfectly with the neighbourhood, perfecting that laid back, beachy vibe. It was Wednesday morning when I visited and even so it was fairly busy, with most of the tables already occupied. I was lucky enough to snag one of the remaining tables with a view of the whole restaurant so was able to admire all the beautiful interior details.
The food also goes hand in hand with the beachy, LA lifestyle and is very health conscious – and also completely vegetarian. If you are a meat eater don't let this put you off, there are plenty of options with something to please everyone, even the biggest of meat eaters! I'm not a vegetarian and didn't have any trouble picking something off the menu.
Where to find them :: 1205, Abbot Kinney Blvd, Venice, CA
Hours :: Daily, 8am – 10pm
Price :: Breakfast/Brunch average price $15 (£11.30) | Latte $4.50 (£3.40) | Cold Press Juices $10
Wifi :: Yes
---
I expected Los Angeles to be all health foods and green juices (which are still in abundance if that's what you're after) but was completely surprised by the amazing food and coffee scene growing here. In all honestly I thought I wouldn't like LA, but was proved to be very wrong and now I find myself desperate to get back for another visit!
Hopefully this food and coffee guide Los Angeles can help you discover some great places to eat and drink in LA.
---
Have you visited Los Angeles – if so, what were you favourites foodie spots!
If you are planning a trip to Los Angeles also be sure to check out my hostel review.